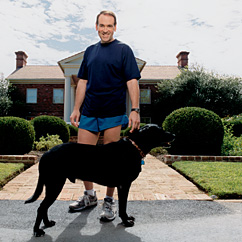 On Monday, December 5th Governor Mike Huckabee will receive the AARP's Impact Award. The award is given each year to "10 honorees who did something extraordinary to make the world a better place."
Dubbed a "Health Crusader," Huckabee's reasons for receiving the honor are described as follows:
In 2003, on a routine visit to his doctor, Governor Mike Huckabee of Arkansas got some bad news: if he didn't dramatically change his lifestyle, he could die within ten years. Desperately overweight and diabetic, the former Southern Baptist preacher began a diet-and-exercise program that led to a 110-pound weight loss and a new mission in life—
helping others get healthy
. The first priority? Raising public awareness of the link between obesity and health problems in a state where 61 percent of the adult citizenry are overweight.
Huckabee created
Healthy Arkansas
, a comprehensive effort to get Arkansans to eat better, exercise more, and stop smoking. Among his more innovative initiatives: offering smoking-cessation classes to Medicaid recipients, giving state workers $240 reductions in their annual health insurance premiums for participating in self-health assessments, and testing the body mass index of every schoolchild.
Thanks to Huckabee, Arkansas is now the only state to use every cent of tobacco-settlement money—$223 million since 2003—for health programs. Huckabee, 50, the current
chairman of the National Governors Association
, recently launched a yearlong
Healthy America
agenda. The goal: change people's habits through education and awareness.
"If we eat healthy, exercise, and don't smoke, we can add 13 healthy years to our lives," he says. "The key thing is not just living longer but living better."
Interestingly, the AARP write-up fails to mention
Huckabee's completion of two marathons
in the last year.
The award ceremony takes place at the New York Public Library at noon on December 5th. See this on the AARP's official website
HERE
.
BSR